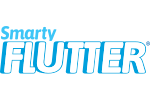 超级快充的学习玩具
不重样地尽情玩耍
保持在画面中!
了解Smarty FLUTTER™接下来要做什么。
注册订阅我们的电子邮件公告。
Great Learning Tool!
We have a two-year-old son who is just starting to learn his colors, and Smarty Flutter has helped him tremendously! So much technology and interactive fun packed into one butterfly.
@Courtney
Awesome Toy
This is so awesome! My twin girls adore playing with. Its interactive capabilities bring their play to life!
@Molly
Great Learning Toy!
This is a very cute toy! It's a great interactive toy for learning those first basic skills and keeps a toddler's attention!
@David R Johnson